Inmarsat Isatphone 2 Satellite Phone Rental
A modern satellite phone suitable for sending and receiving e-mails and text messages as well as phone calls. Covers the world excluding the Poles
Inmarsat Isatphone 2 Sat Phone Rental

Option 1 - Value Plan :-

$219.00 / month + VAT
Airtime $1.65 / minute + VAT
minimum rental 30 days
includes minimum usage 60 minutes / month*

Option 2 - Daily :-

$7.00 Rental Per Day ( Min 10 Days)
Call Charges $1.85 per min * + VAT

Option 3 - Long term :-

$90.00 / month Subject to airtime agreement with a monthly fee $49.95** + VAT

Fully refundable Deposit - £500
The rental unit comes with:
IsatPhone 2 handset
Battery
Mains Charger & 4 universal plug adapters
Car Charger
Micro USB Cable
Wired Handsfree Headset
Wrist Strap
Holster
USB Memory with user guides
Quick start guide
We display the $ price simply because most Inmarsat transactions are completed in this currency. The exchange rate is always fluctuating and therefore in order to get the best prices from G Comm we calculate at the current exchange rate.
VAT is charged on rentals.
How to Rent your Inmarsat SatPhone
To order your Rental Satellite Phone either call us on 01473 327813 or simply download and complete the appropriate rental form (see above). You should be able to complete the PDF without having to print it out. You can then "Save As" the document and email it to us at sales@g-comm.co.uk.
Note: If you want to complete this on your PC/device please download the file and open with a PDF reader. You will need to "Save As" to save your input, this can't be done if viewing the document in a web browser.
If, for whatever reason you cannot complete the form on your device please print the form out, complete and then scan/photograph the form and email it to us at sales@g-comm.co.uk (please note if you are calling you will be asked to complete and return this form as well).
The Inmarsat Isatphone 2 Features
A powerful, dependable satellite phone delivering high voice quality, voicemail, text and email messaging, plus tracking and assistance alert features. All packaged in an ergonomically designed rugged handset.
Ready: fast network registration in under 45 seconds and unrivalled battery life, with 8 hours of talk time and up to 160 hours of standby time
Reliable: operates over global geostationary satellites ensuring reliable call stability and network connection
Robust: designed and engineered to withstand the most extreme conditions; operates at -20°c to +55°c (larger keypad for easy dialling when wearing gloves); dust, splash and shock resistant (IP65, IK04); humidity tolerance from 0 to 95%
Reassuring: location services, including tracking and assistance button, keep people updated of your GPS coordinates when it matters. Receive notification of inbound calls even with antenna stowed
Readable: easy-to-use interface with large high-visibility, scratch-resistant transflective display that is readable even in bright sunlight
Features & Benefits of Renting Satellite Phones from G Comm
Same day dispatch from UK if ordered before 15:00hrs Monday to Friday
Additional Accessory Options available
One phone, one number (anywhere in the world)
Lightweight handheld unit
Free incoming calls
Great Customer Service
* For calls to any landline or mobile, Inmarsat number $0.83/minute, calls to other satellite networks $10/minute.
** Subject to 6 month minimum rental. Calls charged as per airtime agreement chosen e.g. to landline and mobile $1.25/minute – see here for airtime charges.
Inmarsat Coverage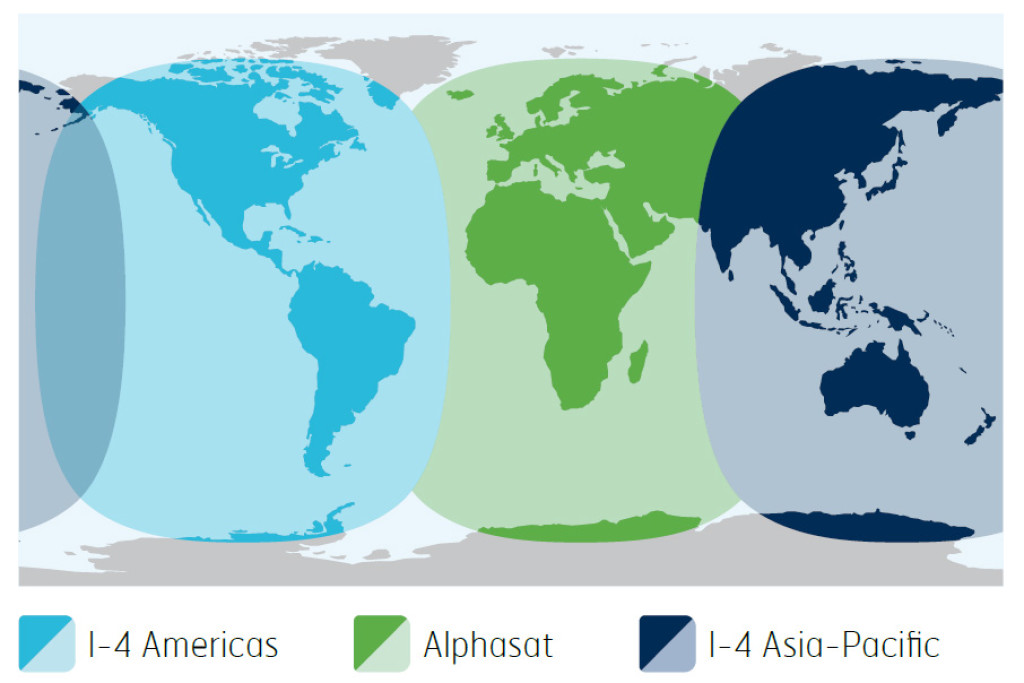 This map is illustrative of IsatPhone 2 coverage. It does not provide a guarantee of the extent of service availability. From November 2013, Alphasat coverage prioritises the region north of 44°S, and service may degrade south of this latitude. PLEASE NOTE: No Service in India
If you need full world-wide coverage please consider renting the Iridium satellite phone system here.